August 31, 2 BC - New Moon - 7th Month - Magi started their travel to Jerusalem
- One Lunar Year after the birth of Jesus
November 29, 2 BC - New Moon Kislev 1
December 21, 2BC - The Magi travelled 4 X 4 X 7 = 112 days and arrived at Jerusalem
Rev 12:1 - ..a woman clothed with the sun, and the moon under her feet, and
December 23, 2BC - Start Hanukkah Kislev 25 - Winter Solstice - Magi at Herod's Palace
Matthew 2:2 - Saying, Where is he that is born King of the Jews?
for we have seen his star in the east, and are come to worship him.
December 25, 2BC - The Magi visited Jesus in their house
Matthew 2:13 - And when they were departed, behold,
the angel of the Lord appeareth to Joseph in a dream,
saying, Arise, and take the young child and his mother, and flee into Egypt
December 26, 2BC - Joseph, Mary and Jesus escape to Egypt - No Moon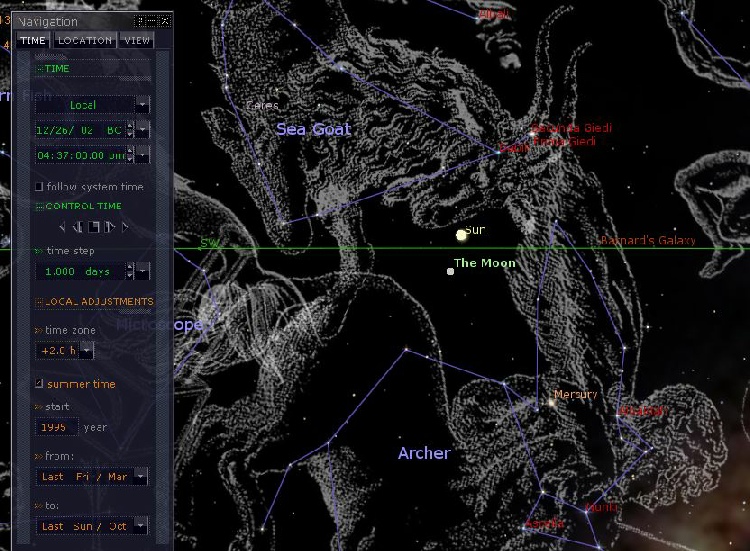 December 28, 2BC - Tevet 1 - Ninos Inocentes - The Massacre of the Children
Matthew 2:16 - Then Herod, when he saw that he was mocked of the wise men,
was exceeding wroth, and sent forth, and slew all the children that were in Bethlehem,
and in all the coasts thereof, from two years old and under,
according to the time which he had diligently enquired of the wise men.
January 6, 1BC - The Magi made their escape from Israel - Feast of the Three Kings
January 9, 1BC - Herod killed Matthias before Lunar Eclipse
February 6, 1 BC - Herod died 40 days after Ninos Inocentes Full Moon
August 31, 2 BC - New Moon - 7th Month - Magi started their travel to Jerusalem
February 6, 1 BC - Herod died 40 days after Ninos Inocentes Full Moon